Find the three dots icon ⋯ next to a person's profile photo or name and choose what you'd like to do.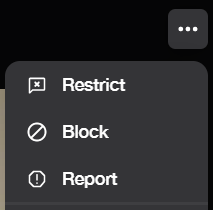 There are 3 ways you can go about dealing with someone who is being rude or harassing you.
1. Restrict them. Then they cannot message you, comment on your posts, or access your Request Menu.
2. Block them. Then they cannot view or be a member of your club.
3. Report them. Then we will look into their behavior and take action where needed. Here, you also have the option to block the person at the same time.